City of Greenfield Presents July 4th IN GREENFIELD!
Monday, July 4, 2022   5:00pm — 9:30pm
PATRIOT PARK, Oak Avenue at 13th Street — FREE!
Bring your lawn chairs and blankets; enjoy the evening with family, friends and neighbors
LIVE MUSIC! FIREWORKS AT DUSK!
Art Activities, Food Vendors, Face Painting, Dance
July 4, 2022: Free Family Festivities at Patriot Park, Greenfield CA
Park Opens at 5:00pm to the pubic
This event is the perfect family event celebrating Independence Day 2022!
Festivities include: Live music and dancing, face painting, art activities and food.
4th of July Greenfield 2022 Official Program  
5:00 Park Opens
5:30 WELCOME and Presentations by Mayor, City Councilmembers and Supervisor
PRESENTATION OF THE FLAGS
PLEDGE OF ALLEGIANCE & NATIONAL ANTHEM
VETERAN PRESENTATIONS
6:00  The Smokin' Hounds 
7:00   Arcoiris Cultural Dance Troupe/Greenfield Cultural Arts Center
7:45   The Smokin' Hounds  
9:00  ANNOUNCEMENTS FOLLOWED BY FIREWORKS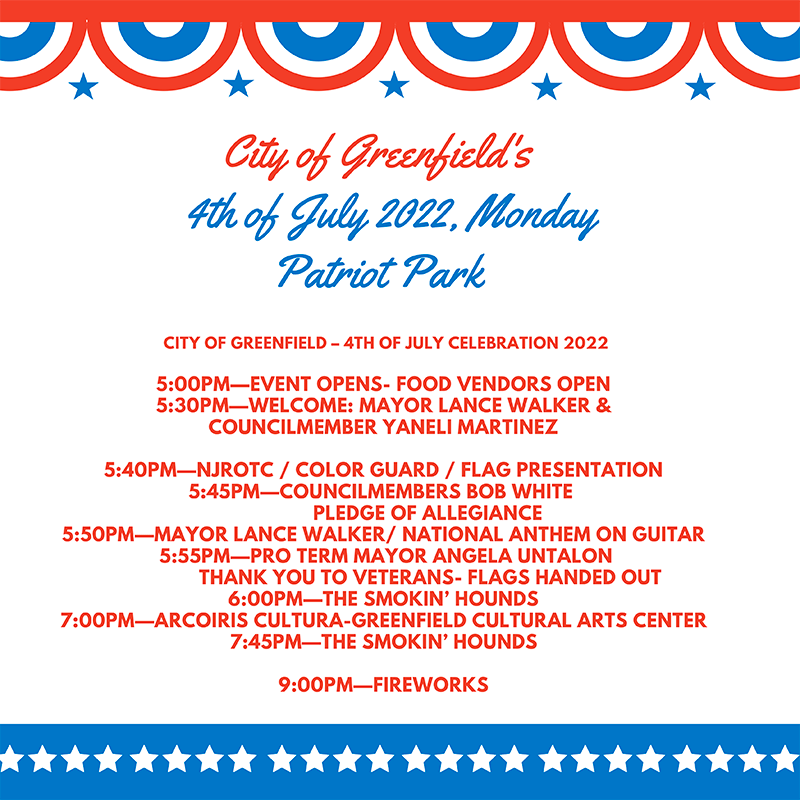 Fireworks will begin at dark — 9:00-9:30
Join us as Greenfield lights up the south county sky celebrating America's birthday! Grab your blanket and be awed by this star spangled spectacle!
The Greenfield 4th of July Volunteer Committee would like to thank our City Council and Staff and all the volunteers who have supported the event!
Event Production by GCAC/First Night Monterey